Latest Post
The Most Common Misconceptions About Flight Delay Compensation
September 2023
Refundmore´s guide to additional costs
When can you get your extra expenses covered, you had in connection with a delayed flight?
Refundmore has made a guide for you who wants to have answered on this question and many more.
Extra expenses are complicated.
If your flight is delayed, canceled, or overbooked, you might have the right to compensate. You can read more about your rights for compensation with delays or cancellations here. Other than that, you might have the right to get refunded for the extra expenses you had in connection with your delayed or canceled flight. The law that justifies you getting your additional fees refunded is the same law that entitles you to receive a delayed or canceled trip.
The EU-regulation who describes whether you are qualified to get your flight tickets' compensation can be pretty hard to navigate in. But in the law of extra expenses, you almost have to be educated if one is to be on the completely safe side
The EU-law does not have any fixed amounts describing what you're entitled to. The law only describes this as "in a reasonable relation to the waiting time".
The EU-regulation is intended vague, as it is impossible to set a fixed maximum amount that is fair at all airports. A reasonable price at Gatwick airport in London isn't necessarily fair in a smaller South America airport. That gives pretty well sense. But it offers an occasion to discuss what reasonable price is. The discussion about what an affordable price is, builds very much on earlier cases and requires that you know these cases. At Refundmore, we have several years of experience and knowledge for more than 100.000 cases, which we will convey in the following guide.
The guide
Our guide is built in three steps:
Step 1, does the delay justifies the extra expenses?
Step 2, Are your type of extra expenses justified?
Step 3, do your receipts have all the needed pieces of information.
For the same reason as the EU-regulation, this guide will not go into what a reasonable price is. We still have help for all of you who are in doubt about whether their extra expenses are affordable.
Step 1: Does the delay justifies the extra expenses?
To get your extra expenses covered, the delay needs to be of particular character. Because the EU-law, it does not apply in all situations; these situations can be described based on the following four types of travel:

These types make perfect sense except for class 3, which only covers a few times. This type of travel is only covered when flying with an airline headquartered within the EU. If the law covers the delay/cancellation, you can move on to the next step to determine if your extra expenses are justified.
STEP 2: is your type of extra expense justified?
Following the law, there are three types of extra expenses: Food, lodging, and transport. The last two types are only current if the delay is overnight. You can only get your transport covered by the place you have slept and back to the airport.
We have made two lists of the extra costs that may be justified and some that are not.
Justified refunds
Here are the types of extra costs you may get refunded.
Meals and refreshments
Hotel accommodation
Transport between airport and accommodation
Non-Justified refunds
Here is a list of some of the types of extra costs that you may never get refunded
Parking
Alcohol
Pet care
Extravagant dining
Prepaid experiences (e.g., sports events, theatre, concerts.)
Prepaid hotel nights and scheduled transportation
This list is not complete, and there are many more types of extra costs that are non-refundable.
For you to claim reimbursement of your extra costs, the courts require that your expenses be made at the right time in relation to the trip. You will not be reimbursed for your extra expenses if made before the scheduled departure time or arrival. Therefore, you can only claim a refund of your extra fees if they were purchased during the trip itself. All this is expressed in the picture below: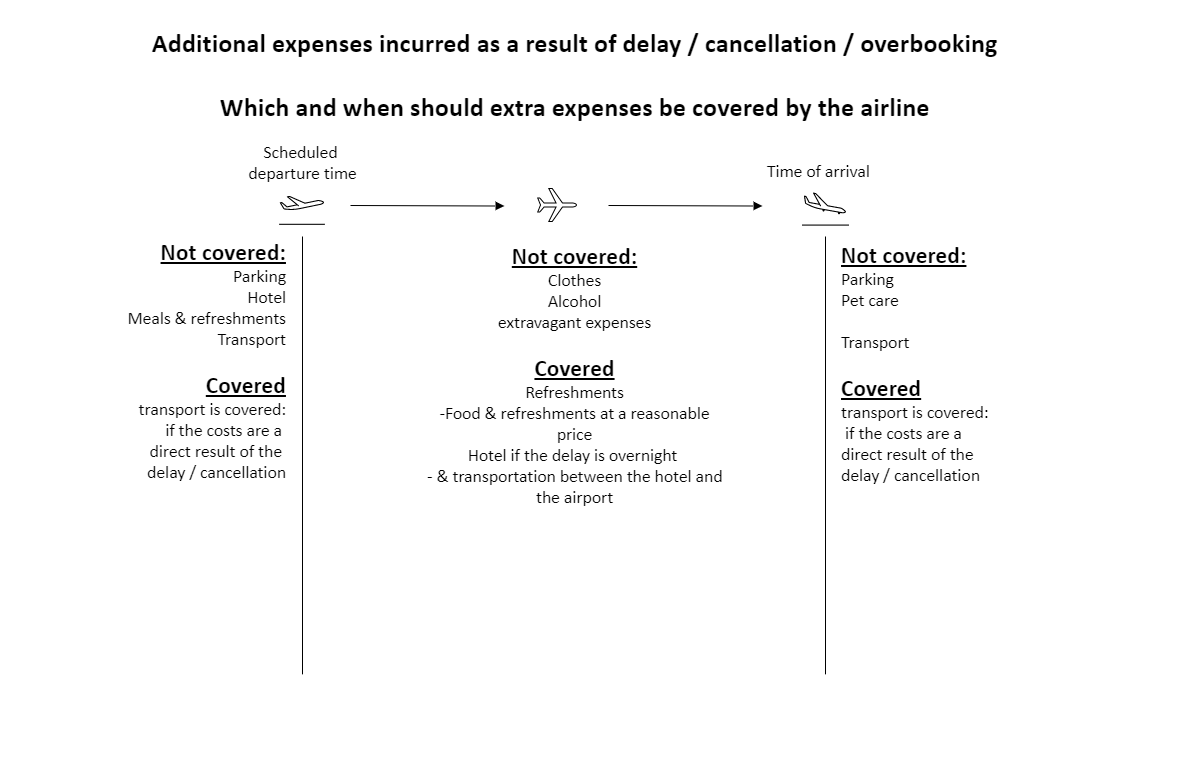 Step 3: Is your receipt valid?
The courts require several pieces of information about your purchase if Refundmore is to claim the extra cost reimbursed. Below is a list of the information that MUST appear on your receipt for it to be valid.
The following must appear on your receipt:
Time and date
Price
What has been purchased
Where it has been purchased