Latest Post
The Most Common Misconceptions About Flight Delay Compensation
September 2023
Flight delay with Ryanair
Have you had problems on the trip and experienced a flight delay with Ryanair?
All airlines can occasionally have trouble taking off from the ground. If it is due to bad weather or human error, is not irrelevant as it may affect whether you are entitled to compensation. The airlines are required to compensate passengers for delays and cancellations over a specific duration.
At Refundmore's blog, we help travelers learn their rights and when they may be entitled compensation.
In this post, the focus is on Ryanair. In addition to information about the company, you will get an insight into what options the airline offers in connection with delays and cancellations. At the end of the post, we review your rights in the form of receiving compensation for flight delays and cancellations.
Ryanair
Ryanair is Europe's largest airline and has its roots in Ireland, where they started with passenger flights back in 1984. Today, they have a daily operation with 2,000 flights to 200 different destinations. Ryanair's fleet consists exclusively of Boeing 737-800, which helps them create a more straightforward process and function of the machines, ensuring better service and safety for their customers.
Ryanair is headquartered in the Irish capital Dublin and similarly has Dublin Airport as its home base. Ryanair offers a membership program called Ryanair Plus that allows you to carry more luggage at no additional cost. You will be given priority when you board and will have the opportunity to reserve your desired seat.
Over time, the airline has been involved in several controversial cases that have had a significant negative impact on its reputation. They have received lousy publicity for their many additional cost additions, accounting for 20% of its total earnings.
The Danish unions have also commented negatively on Ryanair's business model and how they treat their employees. A case about whether Ryanair's Danish employees should be allowed to strike, resulting in 2015 with Ryanair closing its bases in Denmark.'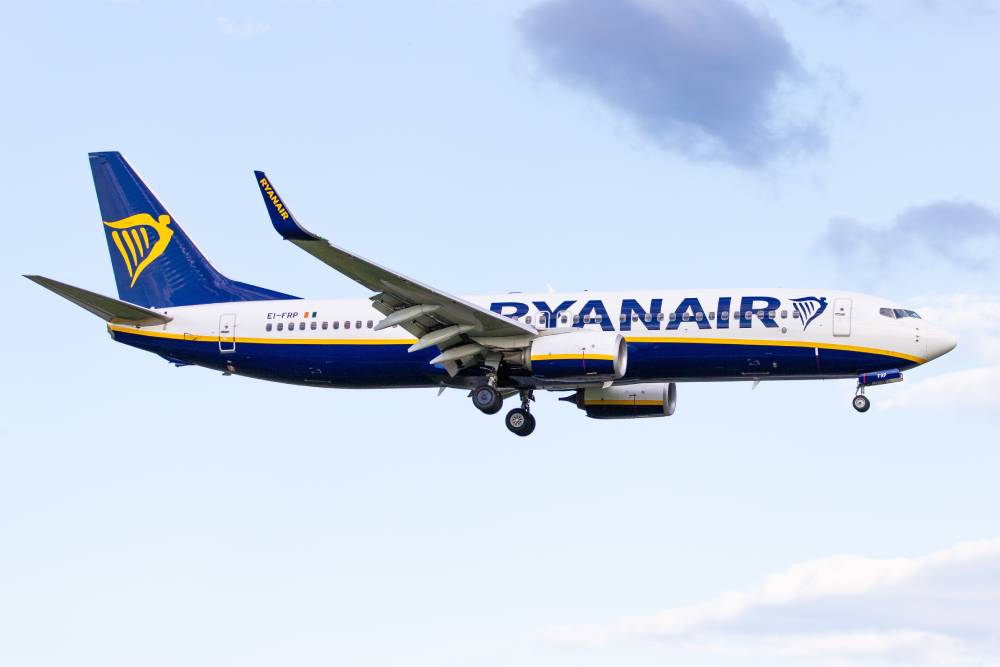 Flight delay with Ryanair
A European airline as Ryanair must comply with European law. This means that Ryanair is required to pay compensation in the event of specific problems on the journey. In the event of a delay, you must familiarize yourself with the length of the journey and the delay's duration, as this has implications for your compensation.
As a traveler, you will be entitled to receive free meals, in the form of food and drink, on journeys of less than 1,500 km, if the delay has lasted more than 2 hours.

The same applies to trips between 1,500 km. and 3,500 km if the delay lasts more than 3 hours.

And again on journeys over 3,500 km When the delay is over 4 hours.
Should you experience a delay of more than 5 hours, you will, regardless of the length of the trip, be entitled a refund of your flight ticket, or get a free return flight to the origin of your journey. If an overnight stay becomes necessary before the journey can continue, the airline is also bound to pay any expenses connected with hotel stays and transport to and from the airport.
Cancellation with Ryanair
If your flight has been canceled and you have not been notified in decent time, it is also possible to claim compensation. You will be entitled to free meals and to have your expenses for hotel stays, and transport paid, as well as the possibility of a refund or return ticket.
Compensation with Ryanair
There is also an option to apply for financial compensation. You will have the opportunity to apply for compensation for all flight delays lasting more than 3 hours and all cancellations.
The amount you can get in compensation will be determined by the trip's length on less than 1,500 km; it will be possible to claim 250 euros.

For journeys between 1,500 km. and 3,500 km; The amount will be 400 euros.

And for travel over 3,500 km; the amount is 600 euros.
You should be aware that the airline is only required to pay compensation in the event of delays which have been within their actual control. This means that if the delay is due to circumstances that the airline cannot control, including labor disputes, weather conditions, or illness, it is not mandatory for the airline to pay compensation.
Some airlines will offer discount coupons, vouchers, and bonus points, and if this is a solution you prefer, it requires you to give written consent before it is valid.
You must keep all information regarding your trip ao you can document what problem you have experienced and therefore secure the compensation to which you are entitled. At Refundmore's website, you have the opportunity to insert the information about your trip and calculate how much you are entitled to in compensation. You also have the opportunity to call us at +45 89 88 22 96 for guidance on your case from one of our experts.